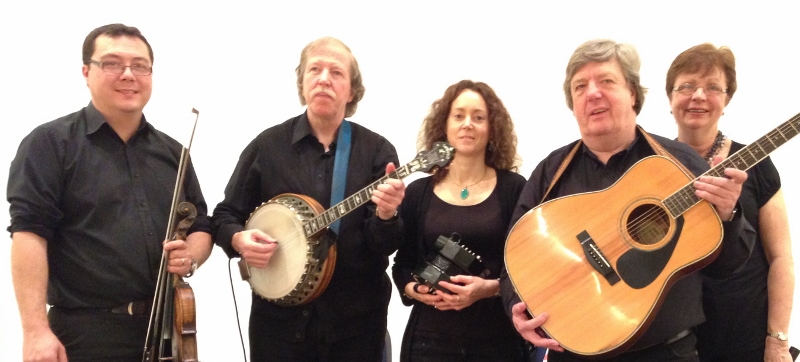 Profile

This is a professional and talented traditional ceilidh band performing celtic, Irish and Scottish music at parties, festivals, pubs, clubs, ceili dancing, and functions and providing quality wedding reception and corporate entertainment.
Anything from a duo to a six-piece, amplified or acoustic, with or without a caller.

All the musicians have been performing, touring and recording for many years and two are award-winning performers.

The band are both sensitive to the occasion and responsive to the mood of the audience.

Traditional Irish, Scottish, English and American songs and tunes played with innovation, flair and vitality.
Award winning. All Ireland champion musicians. A ceilidh is something really different and ideal for a successful party A fun way to get families, friends and colleagues to mix and meet All age groups become involved. Sensitive to the occasion and responsive to the mood of the audience. The faster dances are an energetic work out, We also play in a more relaxed romantic mood. Experienced Professional Flexible Anything from a duo to a six-piece amplified or acoustic With or without a caller. All bands are punctual, smart and sober, but still good fun!
Rates From £ 513
Quote is for a trio playing 2 one hour or three 45 min sets in the next six months within 50 miles of North London. Assumes arrival to set up half an hour before the performance, up to two one hour sets or three 45min sets with short breaks within a four hour period before midnight, and pack down on completion. Larger Band available if required.
Entertainment Types: Barn Dance Band, Ceilidh Band, Folk Band, Irish Band
Genres: Acoustic, Celtic, Folk, Irish, Scottish
Options: We are flexible enough as regards personnel, instrumentation and musical style to be able to tailor a band to your specific requirements.
An example of a duo would be myself on guitar/vocals together with our banjo player. Our accordion player can be brought in to enlarge the band. Other instruments such as fiddle, flute, tin-whistle, double bass may also be added. Speciality instruments such as Scottish or Irish bagpipes, bodhran (Irish drum) or traditional dancers are also available by arrangement (subject to availability & musical considerations).
Our most common format for a ceilidh consists of four musicians plus a caller who will teach the dances from scratch - no experience needed!
iPod from a few minutes after arrival and during set up as well as during breaks with wide selection of tracks available. Equipment can also be made available to play iPod before or after the performance for additional fees.
Also available Mick & Mick (Mick O'Connor Tenor Banjo/Jokes & Mick Bailey Guitar/vocals) a professional and talented act with many years' experience performing in hospitals, hospices, nursing / residential homes, special schools day centres and older people's clubs.
All bands are punctual, smart and sober, but still good fun!
Costumes / Dress: The Band wear all black with additional attire geared to your occasion eg Tartan waistcoats at A Scottish Ceilidh or Cowboy Hats for an American barn-dance
Experience: A professional and talented band with many years' experience specialising in traditional music in pubs and clubs, and at schools and colleges, festivals, weddings, parties and corporate functions.
All the musicians have been performing, touring and recording for many years and two are award-winning performers.
Previous Clients: We are a professional and talented band with many years' experience specialising in traditional music in pubs and clubs, and at schools and colleges, festivals, weddings, parties and corporate functions.
Clients include Mick Jagger and Jerry Hall, Robert Smith of The Cure, Guy Ritchie, Jackie Clune
The Baroness McDonagh and Sheila McDonagh MP, National Theatre, National Youth Orchestra, London Irish RFC and British Airways.
Celebrities we've performed for include: Princess Beatrice, Princess Eugenie, Frank Skinner, Clive Anderson, Ian Hislop
Stephen Fry, Alan Davis, Dara O'Briain, Sanjeev Bhaskhar, Meera Syal, Aimi MacDonald, Bert Weedon, Jon Snow, Imelda Staunton
Venues include Return to Camden Town Festival, London NW1, Blenheim Palace, The National Liberal Club
The Royal Festival Hall, Pinewood Studios, and HM Treasury
TV appearences "Next" on Live TV, "Feilte" on TG4, End of shoot parties: "Poirot" & "The Bill"
Film appearences "66" with Helena Bonham Carter and Catherine Tate
Resident Musicians The Clayton Crown Hotel, London NW2
Located in:
Camden, Greater London
Playlists / Performance Info:
Clients include Mick Jagger and British Airways.
Venues include The Royal Festival Hall, Pinewood Studios, HM Treasury and The Kings Fund.

Musical influences include; The Chieftains; Planxty; The Bothy Band; Altan; Ally Bain; Boys of the Lough; Jimmy Shand; The Pogues; Van Morrison; The Dubliners and Christy Moore

SONGS
Cockles & Mussels
Come by the Hills
Danny Boy
Dark Island
Dirty Old Town
Far away in Australia
Fiddlers Green
Fields of Athenry
Fleur of Scotland
Foggy Dew
Galway Shawl
I'll Tell My Ma
Irish Rover
Jambalaya
Lakes of Ponchartrain
Last thing on my mind
Leaving of Liverpool
Lights of London
McAlpine's Fuseliers
Mountain Dew
Muirsheen Duirkin
My Lovely Rose of Clare
Nancy Spain
Only our Rivers run Free
Ordinary Man
Peggy Gordon
Queen Jane
Ride On
Sean South
Seven Drunken Nights
Spancil Hill
Star of the County Down
Sweet Sixteen
Sweet Thames Flow Softly
Tipping it up to Nancy
Town I Love so well
Waltzing for Dreamers
Whiskey in the Jar
Whistling Gypsy Rover The
Wild Colonial Boy
Wild Rover
Will you go Lassie Go
Willie McBride

American Pie
Amorillo
Annie's Song
Brown Eyed Girl
Can't buy me love
Country Roads
Dance the Night Away
From Me To You
Galway Girl
Hallelujah
Hey Good Lookin
I just called to say I love you
I'll never find another you
Love is the sweetest thing
Return to Sender
Summer Holiday
Twist & Shout / La Bamba
World of Our Own
Yesterday

Banks of the Ohio
Boys from the County Armagh
Bunch of Thyme
City of Chicago
Curragh of Kildare
Dublin in the Rare Old Times
Fare The Well Inneskillen
Farewell My Green Valleys
Get Back
Hokey Cokey
Isle of Tears
Little Drummer
Marie's Wedding
My own dear Galway Bay
Rattling Bog
Roll in My Sweet Baby's Arms
Rose, The
Sam Hall
She Moved Through The Fair
Take me Home to Mayo
Welcoming Paddy Home
Willie and Mary

A Nightingale Sang in Berkley Square
Ain't Misbehavin'
Arriverdeci Roma
As Time Goes By
Blue Moon
Bring Me Sunshine
Daisy / Down at the Old Bull & Bush / I belong to Glasgow
If you were the only Girl in the World
I'm getting married in the morning / Roll out the Barrel / My old Man said / Knees up Mother Brown
I'm in the mood for Love
It's a Long Way to Tipperary / Pack up your troubles / Coming Round the Mountain / When the Saints
Leaning on a Lampost
Magic Moments
Maybe it's because / The Bells are Ringing / Lambeth Walk / Side by Side
Show me the way to go Home
Tea For Two
Underneath the Arches
We'll Meet Again
When Irish Eyes are Smiling
When You're Smiling
White Christmas
White Cliffs of Dover
You Are my Sunshine
You Made me Love You

TUNES
The Band have an extensive repertoire of traditional tunes. There wouldn't be space to list all the tunes we might do, there's literally thousands in the tradition. Here's a few favorites:
Arkansas Traveler: Ashokan Farewell: Athole Highlanders: Banshee: Blackthorne Stick: Blarney Pilgrim: Boys of Bluehill: Calliopie House: Cliffs of Moher: Cock of the North: College Hornpipe (Sailors Hornpipe): Congress: Cooley's: Cup of tea: Dashing White Sergeant: Dingle Regatta: Donnybrook Fair: Drowsy Maggie: Duke of Perth: Dusty Windowsill: Earl's Chair: Fairy Dance: Farewell To Erin: Flowers of Edinburgh: Golden Keyboard:

Gravel Walks: Hag at The Churn: Haste to the Wedding: High Reel: I'll buy boots for Maggie: I wanna be near you: Irish Washerwoman: Jig of Slurs: Keel Row: Kesh: Kid on the Mountain: King of the Fairies: Lark in the Morning: Maggie in the Wood: Maguire & Patterson's: Maid behind the Bar: Margaret's Waltz: Marie's Wedding: Martin Wynn's No 1 & No 2: Mason's Apron: Merry Blacksmith: Miss McLeods: Morrison's: Mountain Road: Musical priest:

My Love is but a Lassie yet: My Love is Like a Red Red Rose: Nine Points of Roguery: Off to California: Orange & Blue: Otter's Den: Over the Moor to Maggie: Pinch of Snuff: Planxty Irwin: Rakish Paddy: Rattling Bog: Red Haired Boy/Little Beggarman: Rights of Man: Saddle the Pony: Sailor's Bonnet: Sally Gardens: Scotland the Brave: Sean Ryan's: Si Bheag Si Mhor: Silver Spear: Skye Boat Song: Sligo Maid: Soldiers Joy: Spanish Lady: Spider in the Bog: St Anne's: St Bernard's Waltz: Star of Munster: Statten Island: Swallows Tail: Tam Linn: Tarbolton: Teetotallers: The Rose Tree: Toss the Feathers: Tripping up the Stairs: Trumpet Hornpipe (Captain Pugwash): Turkey in the Straw: Wise Maid:

DANCES
The Band have an extensive repertoire of traditional dances. We often include;Barn Dance; Bridge of Athlone; Circassian Circle; Circle Waltz; Cumberland Square Eights; Dashing White Sergeant; Gay Gordons; I Want to be near you; Seige of Ennis; Strip the Willow; Virginia Reel.
Testimonials:
Just to say a huge thank you for last night . It was such a fun occasion and exactly what I hoped for and more. The band's contribution to this was huge. We all thought your caller was exceptional. Hope you had an easy journey home. Thank you again.

Lesley Lawson, Headteacher
Belated thanks to you and your band for last Saturday evening Alison had a fantastic time and the post party feedback from everyone who was there has been great - the music and format really got everyone talking and mixing Our boys loved the music and went to bed exhausted having done a couple of the dances! Many thanks - I hope that we see you perform again.

James Finnis
Prompt and efficient upon arrival, my guests enjoyed their music immensely, and their caller guided us all through the dances with great skill. I would strongly recommend this band to anyone looking for a fun evening. Thank you so much for your excellent playing. Many thanks again.

Mary Sherry
"Everyone was dancing" "Amazing!!! The band was superb. (16th September 2017 Saturday Granta, 14 Newnham Rd, Cambridge CB3 9EX) The songs were performed to the highest standard, and they were FUN. Our guests had an amazing time, and by the end, everyone was dancing. At one point, the band even called a miniature impromptu ceilidh dance: we don't know who initiated this, but it was a fantastic read of the crowd, who adored it. Again, we received so many compliments on the band" Morgan & Scott Shepard 28th Sept 2017

Morgan & Scott Shepard
"Such wonderful musicians" What an absolutely fantastic interlude of music you gave us - we all absolutely loved it! I'm just so sorry I didn't get the chance to come and thank you personally on the day, it was a bit of a whirlwind - but I have the most beautifully vivid memories of dancing with my uncle in the lounge. Such wonderful musicians and you played a perfect array of songs for us all to enjoy. Paul heard the sea shanty and was very excited, especially when I told him that it was for him. We hope everything went ok for ye too and that you enjoyed the venue. We have had lots of people asking about you so we will be sure to pass on your name and website to them. Thanks for adding a wonderful dose of celtic magic to our special day. Lots of best wishes Karen and Paul Savage 28th Sept 2017

Karen and Paul Savage
"You were brilliant" "The Mayor, Cllr Tony Virgo wanted me to pass on his thanks for your performance at his Burns Supper (10th February 2017 Friday The Stirrups Country House Hotel, Maiden's Green, Bracknell, Berkshire, RG42 6LD). He said you were brilliant and the Scottish dancing was a great success! He's a very very happy Mayor, You may also like to know that we managed to raise over £2000 for Sebastian's Action Trust which is fantastic, Best Wishes" Emma Young Mayor's Office Democratic and Registration Services Corporate Services Bracknell Forest Council 14th February 2017

Emma Young
"Fantastic and efficient" A huge thank you to you and the rest of the band for performing at the Celts Late on Friday (9th October 2015 The Clore foyer, The British Museum Great Russell Street, London WC1B 3DG). We really appreciate you contributing to this special event and you have been fantastic and efficient to work with. The band sounded great and it was lovely to see people enjoying themselves (I managed to pop down briefly!). I will also send on the photos of the event when they reach me too.Great to meet you briefly and thank you all again for performing. All the best Marisa Smith Acting Events Manager: Adult Programmes, British Museum 12th October 2015

Marisa Smith
"How wonderful the band was" "I didn't get to thank you in person last night at Heatherden Hall Pinewood, (25th July 2015* Saturday, Pinewood Studios, Pinewood Road, Iver Heath, Buckinghamshire, SL0 0NH) it was so hectic trying to get around to talk to guests. I just wanted to say a huge thank you for your amazing performance, we are and were so grateful that you made a wonderful party an amazing party. We had so many compliments on how wonderful the band was and everyone had such an amazing fun evening. I apologise for the overrun and you having to wait around. I do hope all the drinks and food we ordered were ok and the ushers looked after you. You were truly amazing and made the party!!! THANK YOU Best Wishes" Jane Jennet 26th July 2015

Jane Jennet
"They had a great time" "Mr Smith has asked me to pass on his thanks to you for making their evening to enjoyable. They had a great time. (15th November 2014 Saturday Ghyll Manor Hotel, High Street, Rusper, Horsham, West Sussex, RH12 4PX) Many Thanks" Louise Fisher The Tour Company on behalf of Robert Smith of "The Cure" 1st December 2014

Louise Fisher The Tour Company on behalf of Robert
"They were marvellous" "The ceilidh was a great success (31st December 2013 Tuesday Goldsmith's College, Lewisham Way, New Cross, London SE14 6NW) the orchestra really enjoyed themselves! Please pass on my thanks for all they did - they were marvellous. If our residency is back at Goldsmiths next year, we'd love to have them back, but I'm afraid we don't know what we're doing until the last minute. I'll certainly be back in touch if we need a band for our Spring/Summer residencies though! Thanks again" Ben Salter, Head of Support, National Youth Orchestra 20th January 2014

Ben Salter, Head of Support, National Youth Orches
"We all loved the band" "many thanks for Sunday (20th October 2013 (trio) The Provenance, 62 High Street, Colliers Wood, SW19 2BY) and being so flexible. We all loved the band and apologies for such cramped conditions. Best Wishes" The Baroness McDonagh (life peer in the House of Lords) 22nd October 2013

Baroness McDonagh (life peer in the House of Lords
Tech Details:
Line Up :

Guitar/male vocals
Banjo
Accordion
Caller
Fiddle
Flute
Double Bass
other instruments can be added

Equipment:

We will bring all necessary instruments and equipment. All we need is a couple of normal 3 pin plug sockets and chairs without arms.

PA System:

Dynacord Powermate 600 Mixer Amp, two EV speakers and Shure SM58 mics. This is sufficient for most venues. If your venue is very large or you have a lot of guests we may need to hire something more powerful.

Light System:

Colour changing lights to light the band.
It is best to dim the lights in the hall where the ceilidh is taking place, as this can encourage people to dance. We would advise against making it very dark as you do need to see what you are doing!
The controls for any stage lights are often locked unless someone specifically organises access.

Setup Times:

half an hour

Area Required:

2 X 4 meters

Sets and
Times :

2 X one hour or 3 X 45 mins (or to suit)

Tech Requirements:

one or two normal 3 pin plug sockets
UK Areas Covered: Bedfordshire - Ampthill, Arlesey, Aspley Guise, Barton le Clay, Bedford, Biggleswade, Blunham, Caddington, Colmworth, Cranfield, Dunstable, EatonBray, Eversholt, Flitwick, Harlington, Haynes, Kempston, Keysoe, Leighton Buzzard, Lidlington, Luton, Maulden, Millbrook, Oakley, Old Warden, Potton, Pulloxhill, Riseley, Sandy, Shefford, Shillington, Stotfold, Thurleigh, Toddington, Willington, Woburn, , Berkshire - Aldermaston, Ascot, Binfield, Bracknell, Burghclere, Burghfield, Caversham, Clewer, Colnbrook, Cookham, Cook Hamdean, Cox Green, Crowthorne, Datchet, Earley, Eton, Finchampstead, Hungerford, Hurst, Lambourn, Langley, Maidenhead, Newbury, Pangbourne, Reading, Sandhurst, Slough, Sonning, Sonning Common, Sunningdale, Sunninghill, Thatcham, Theale, Tilehurst, Twyford, Wargrave, Windsor, Winnersh, Wokingham, Woodley, , Buckinghamshire - Amersham, Aston Clinton, Aylesbury, Beaconsfield, Bletchley, Bourne End, Bow Brickhill, Buckingham, Chalfont St Giles, Chalfont St Peter, Cheddington, Chesham, Chicheley, Gerrards Cross, Great Missenden, Hanslope, Haversham, Hazlemere, High Wycombe, Ivinghoe, Marlow, Milton Keynes, Newport Pagnell, Newton Longville, Olney, Penn, Princes Risborough, Shenley, Stoke Hammond, Stoke Poges, Stony Stratford, Taplow, Wendover, Wing, Winslow, Woburn Sands, Wolverton, , Cambridgeshire - Abington, Alconbury, Arrington, Balsham, Bar Hill, Barrington, Bartlow, Barton, Bassingbourn, Bottisham, Bourn, Boxworth, Buckden, Burwell, Caldecote, Cambourne, Cambridge, Castle Camps, Caxton, Chatteris, Cherry Hinton, Chesterton, Comberton, Conington, Coton, Cottenham, Coveney, Croxton, Doddington, Dry Drayton, Dullingham, Duxford, East Hatley, Elsworth, Eltisley, Eaton Socon, Ellington, Ely, Fen Ditton, Fen Drayton, Fordham, Fowlmere, Foxton, Fulbourn, Gamlingay, Girton, Godmanchester, Grantchester, Graveley, Grafham, Great Gidding, Guilden Morden, Haddenham, Hardwick, Harlton, Harston, Haslingfield, Hauxton, Hildersham, Hinxton, Histon, Horningsea, Horseheath, Huntingdon, Ickleton, Isleham, Impington, Kennett, Kimbolton, Kirtling, Kingston, Knapwell, Landbeach, Leverington, Linton, Litlington, Little Downham, Littleport, Lode, Lolworth, Longstanton, Longstowe, Madingley, Manea, March, Melbourn, Meldreth, Mepal, Milton, Newmarket, Newton, Norman Cross, Oakington, Orton, Orwell, Outwell, Over, Pampisford, Papworth, Peterborough, Prickwillow, Queen Adelaide, Rampton, Ramsey, Reach, Sawston, Sawtry, Shelfords, Shepreth, Snailwell, Soham, Somersham, Stapleford, Steeple Morden, Stetchworth, St Ives, St Neots, Stow Cum Quy, Stretham, Stuntney, Sutton, Swaffhams, Swavesey, Tadlow, Teversham, Thetford, Thorney, Thriplow, Toft, Trumpington, Tydd St Giles, Upwell, Walton, Waterbeach, Wendy-Cum-Shingay, Wentworth, West Wickham, Werrington, Whaddon, Whittlesey, Whittlesford, Wicken, Wilbrahams, Wilburton, Willingham, Wimblington, Wimpole, Wisbech, Witcham, Witchford, Wood Ditton, Yaxley, , East Sussex - Alfriston, Barcombe, Battle, Bexhill on Sea, Blackboys, Bodiam, Brighton and Hove, Burwash, Camber, Chailey, Chiddingly, Crowborough, Ditchling, East Chiltington, East Hoathly, Eastbourne, Fletching, Forest Row, Framfield, Frant, Groombridge, Hailsham, Hartfield, Hastings, Heathfield, Herstmonceux, Horam, Hurst Green, Isfield, Laughton, Lewes, Mayfield, Newhaven, Newick, Northiam, Peacehaven, Pevensey, Polegate, Portslade, Ringmer, Robertsbridge, Rodmell, Rotherfield, Rye, Seaford, St Leonards on Sea, Telscombe Cliffs, Ticehurst, Uckfield, Wadhurst, Wilmington, Winchelsea, , Essex - Aldham, Alresford, Althorne, Ashdon, Barking, Basildon, Benfleet, Billericay, Boxted, Bradwell-on-Sea, Braintree, Brentwood, Brightlingsea, Buckhurst Hill, Burnham-on-Crouch, Canvey Island, Chadwell St Mary, Chafford Hundred, Chelmsford, Chigwell, Clacton-on-Sea, Clavering, Coggeshall, Colchester, The Colne Valley, Corringham, Dagenham, Debden, Dovercourt, Dunmow, East Mersea, Eastwood, Eight Ash Green, Epping, Felsted, Fordham, Foxearth, Frinton-on-Sea, Fyfield, Galleywood, Grays, Great Bentley, Great Chesterford, Great Dunmow, Great Holland, Great Notley, Great Tey, Great Totham, Great Yeldham, Hadleigh, Hadstock, Halstead, Harlow, Harwich, Hatfield Peverel, Hockley, Holland-on-Sea, Hornchurch, Horndon-on-the-Hill, Ilford, Ingatestone, Jaywick, Kelvedon, Laindon, Lamarsh, Lambourne, Langham, Leigh-on-Sea, Little Baddow, Little Clacton, Little Totham, Little Waltham, Loughton, Maldon, Manningtree, Manuden, Maplesteads, Marks Tey, Matching Green, Mersea Island, Mistley, Mount Bures, Nazeing, Newport, Noak Bridge, Ongar, Orsett, Pebmarsh, Pitsea, Prittlewell, Purfleet, Rainham, Rayleigh, Ridgewell, Rochford, Romford, Roxwell, Saffron Walden, Shenfield, Shoeburyness, South Ockendon, South Woodham, Ferrers, Southend-on-Sea, Southminster, StOsyth, Stanford-le-Hope, Stansted Mountfitchet, Stock, The Stour Valley, Takeley, Tendring, Thaxted, Theydon Bois, Thorpe-le-Soken, Thundersley, Thurrock, Tilbury, Tiptree, Tollesbury, Upminster, Waltham Abbey, Walton-on-the-Naze, Wenden Ambo, West Bergholt, West Mersea, Westcliff-on-Sea, White Notley, Wickford, Wimbish, Witham, Wivenhoe, Woodford, Writtle, , Greater London - Hillingdon, Harrow, Barnet, Enfield, Redbridge, Barking Dagenham, Havering, Bexley, Bromley, Croydon, Sutton, Kingston, Richmond, Hounslow, Ealing, Brent, Central London, North London, North West London, East London, West London, South West London, South East London, , Hampshire - Aldershot, Alresford, Alton, Ampfield, Andover, Ashford Hill with Headley, Ashurst, Basingstoke and Deane, Baughurst, Beaulieu, Bentley, Bishops Waltham, Bordon and Whitehill, Bramley, Bransgore, Brockenhurst, Burley, Bursledon, Cadnam, Chandlers Ford, Chawton, Church Crookham, Cliddesden, Eastleigh, Emsworth, Eversley, Fareham, Farnborough, Fawley, Fleet, Fordingbridge, Four Marks, Froyle, Gosport, Grateley, Hamble, Hartley Wintney, Havant, Hayling Island, Headley, Holybourne, Hook, Horndean, Hythe, Ibsley, Kingsclere, Lee-on-Solent, Liphook, Liss, Littleton and Harestock, Locks Heath, Lymington, Lyndhurst, Medstead, Milford on Sea, New Milton, North Baddesley, Oakley, Odiham, Over Wallop, Petersfield, Portchester, Portsmouth, Ringwood, Romsey, Rowlands Castle, Selborne, Silchester, Southampton, Southsea, Steep, Stockbridge, Sway, Tadley, Thruxton, Titchfield, Totton, Waterlooville, West Tytherley, Whitchurch, Wickham, Winchester, Winchfield, Yateley, , Hertfordshire - Abbots Langley, Ashwell, Aston, Baldock, Barkway, Benington, Berkhamsted, Bishops Stortfords, Borehamwood, Bovingdon, Braughing, Bricket Wood, Broxbourne, Buntingford, Bushey, Cheshunt, Chipperfield, Chorleywood, Croxley Green, Cuffley, Goffs Oak, Hadley Wood, Harpenden, Hatfield, Hemel Hempstead, Hertford, Hitchin, Hoddesdon, Kings Langley, Knebworth, Letchworth, Markyate, Potters Bar, Radlett, Redbourn, Rickmansworth, Royston, Sawbridgeworth, Shenley, Spellbrook, StAlbans, Stanstead Abbotts, Stevenage, Stotfold, Tring, Waltham Cross, Ware, Watford, Welwyn Garden City, Wheathampstead, , Kent - Adisham, Aldington, Alkham, Appledore, Ash, Ashford, Aylesford, Aylesham, Badgers Mount, Bapchild, Barham, Barming, Bearsted, Beckenham, Belvedere, Benenden, Bethersden, Bexley, Bidborough, Biddenden, Biggin Hill, Bilsington, Bilting, Birchington, Blean, Bobbing, Borden, Borough Green, Boughton, Boughton Monchelsea, Boxley, Brabourne, Brasted, Bredgar, Brenchley, Brenzett, Bridge, Broadstairs, Bromley, Burham, Canterbury, Challock, Charing, Chartham, Chartham Hatch, Chatham, Chevening, Chiddingstone, Chilham, Chillenden, Chipstead, Chislehurst, Chislet, Cliffe, Cliffsend, Cobham, Cranbrook, Crockenhill, Cuxton, Dartford, Deal, Detling, Ditton, Doddington, Dover, Dungeness, Dunkirk, Dunks Green, Dunton Green, Dymchurch, East Malling, East Peckham, Eastchurch, Eastling, Eastry, Eccles, Edenbridge, Egerton, Elham, Elmsted, Eynsford, Eythorne, Faversham, Fawkham, Finglesham, Folkestone, Fordcombe, Four Elms, Gillingham, Godmersham, Goodnestone, Goudhurst, Gravesend, Great Chart, Greenhithe, Hadlow, Halling, Halstead, Ham, Hamstreet, Harrietsham, Hartley, Hastingleigh, Hawkhurst, Hawkinge, Headcorn, Herne Bay, Hernhill, Hever, High Halden, High Halstow, Higham, Hildenborough, Hoath, Hollingbourne, Hoo, Horsmonden, Horton Kirby, Hothfield, Hythe, Ide Hill, Ightham, Kemsing, Kingsdown, Kingsnorth, Kingston, Knockholt, Laddingford, Lamberhurst, Larkfield, Leeds, Lenham, Leysdown-on-Sea, Little Chart, Littlebourne, Longfield, Lordswood, Lower Halstow, Lydd, Lyminge, Lympne, Lynsted, Maidstone, Manston, Marden, Margate, Marlpit Hill, Marshborough, Matfield, Meopham, Milstead, Minster, Minster in Thanet, Molash, Monks Horton, Monkton, Nettlestead, New Ash Green, New Romney, Newington, Newington near Hythe, Nonington, Northfleet, Oare, Offham, Old Romney, Orpington, Otford, Otterden Place, Paddock Wood, Pembury, Penshurst, Petham, Petts Wood, Platt, Plaxtol, Pluckley, Queenborough, Rainham, Ramsgate, Rhodes Minnis, Ringwould, Riverhead, Rochester, Rolvenden, Ruckinge, Sandhurst, Sandling, Sandwich, Seal, Sellindge, Selling, Sevenoaks, Sevenoaks Weald, Shadoxhurst, Sheerness, Shepherdswell, Shoreham, Sidcup, Sittingbourne, Smarden, Smeeth, Snave, Snodland, Southborough, Southfleet, Speldhurst, St Margarets at Cliffe, St Mary in the Marsh, St Marys Bay, Stanford, Staple, Staplehurst, Stelling Minnis, Stone, Stone in Oxney, Stowting, Strood, Sturry, Sutton Valence, Sutton-by-Dover, Swanley, Tenterden, Teynham, Thurnham, Tilmanstone, Tonbridge, Tunbridge Wells, Ulcombe, Upchurch, Upnor, Vigo, Walderslade, Waltham, Warehorne, Wateringbury, Well Hill, West Farleigh, West Hougham, West Kingsdown, West Malling, West Peckham, West Wickham, Westbere, Westerham, Whitstable, Wickhambreaux, Willesborough, Wilmington, Wingham, Wittersham, Woodchurch, Worth, Wouldham, Wrotham, Wye, Yalding, , Middlesex - Acton, Brentford, Camden Town, Chiswick, Edgware, Edmonton, Enfield, Fulham, Golders Green, Hackney, Hampstead, Hanworth, Harrow, Hendon, Highgate, Hounslow, London, Mill Hill, Millwall, Pinner, Potter's Bar, Soho, Staines, Stanmore, Tottenham, Uxbridge, Westminter, Whitechapel, Norfolk - Acle, Ashill, Attleborough, Aylsham, Bacton, Blakeney, Blofield, Brancaster Staithe, Briston, Burnham Market, Buxton, Caister, Carbrooke, Caston, Cley next the Sea, Colby, Coltishall, Cromer, Dereham, Diss, Downham Market, East Dereham, Fakenham, Feltwell, Foulsham, Gorleston, Great Ryburgh, Great Yarmouth, Harleston, Heacham, Hemsby, Hevingham, Holt, Horning, Horsey, Hoveton, Hunstanton, Ingham, Kings Lynn, Loddon, Long Stratton, Martham, Mulbarton, Mundesley, North Walsham, Norwich, Ovington, Sea Palling, Sheringham, Snettisham, Somerton, South Walsham, StokeFerry, Swaffham, Swanton Abbot, Thetford, Walcott, Wells next the Sea, West Runton, Wicklewood, Winterton, Wroxham, Wymondham, , Northamptonshire - Brackley, Bugbrooke, Burton Latimer, Byfield, Corby, Cottingham, Crick, Crowfield, Daventry, Desborough, Duston, Earls Barton, Everdon, Great Houghton, Greatworth, Gretton, Harpole, Hartwell, Helmdon, Higham Ferrers, Irchester, Irthlingborough, Kettering, Little Cransley, Little Houghton, Mawsley, Mears Ashby, Moulton, Northampton, Oundle, Pitsford, Potterspury, Raunds, Rushden, Staverton, Stoke Bruerne, Thrapston, Titchmarsh, Towcester, Wappenham, Warmington, Weedon, Weldon, Welford, Wellingborough, West Farndon, Whitfield, Wollaston, , Oxfordshire - Abingdon, Adderbury, Bampton, Banbury, Bicester, Bodicote, Blewbury, Bloxham, Brize Norton, Burford, Carterton, Chalgrove, Charlbury, Checkendon, Chesterton, Chinnor, Chipping Norton, Deddington, Didcot, Dorchester, Enstone, Eynsham, Faringdon, Frilford, Fritwell, Goring, Harwell, Henley on Thames, Hook Norton, Kidlington, Longcot, Longworth, Oxford, Rotherfield Peppard, Shipton-under-Wychwood, Shrivenham, Sonning Common, Stanford in the Vale, Steventon, Thame, Uffington, Wallingford, Wantage, Watlington, Witney, Woodcote, Woodstock, , Rutland - Oakham, Uppingham, , Staffordshire - Alrewas, Alton, Audley, Barton under Needwood, Biddulph, Bilbrook, Brocton, Burntwood, Burton on Trent, Cannock, Cheadle, Codsall, Eccleshall, Hednesford, Keele, Kidsgrove, Kinver, Leek, Lichfield, Newcastle under Lyme, Penkridge, Perton, Rugeley, Shareshill, Stafford, Stoke on Trent, Stone, Tamworth, Tutbury, Uttoxeter, Wombourne, , Suffolk - Aldeburgh, Beccles, Bramfield, Bramford, Brandon, Brantham, Bungay, Bury St Edmunds, Capel St Mary, Clare, Debenham, Drinkstone, East Bergholt, Edwardstone, Elveden, Eye, Felixstowe, Framlingham, Glemsford, Hadleigh, Halesworth, Haughley, Haverhill, Ipswich, Ixworth, Kedington, Kennett, Kesgrave, Lakenheath, Lavenham, Laxfield, Leiston, Little Glemham, Little Thurlow, Long Melford, Lowestoft, Mildenhall, Nayland, Needham Market, Newmarket, Orford, Pakefield, Saxmundham, Southwold, Stonham Aspal, Stowmarket, Stradbroke, Stradishall, Sudbury, Swilland, Walsham-le-Willows, Wickham Market, Woodbridge, Woolpit, , Surrey - Addlestone, Ash, Ash Vale, Ashford, Ashtead, Bagshot, Banstead, Bisley, Blackwater, Bookham, Bramley, Brockham, Byfleet, Camberley, Carshalton, Caterham, Cheam, Chertsey, Chiddingfold, Chobham, Cobham, Cranleigh, Croydon, Dorking, Dormansland, Dunsfold, East Horsley, East Molesey, Egham, Epsom, Esher, Ewell, Farnham, Frimley, Godalming, Godstone, Guildford, Haslemere, Hersham, Hindhead, Horley, Kingston, Kingswood, Knaphill, Leatherhead, Lightwater, Limpsfield, Lingfield, Merstham, Milford, Mitcham, New Malden, Newdigate, Ockley, Ottershaw, Oxshott, Oxted, Purley, Redhill, Reigate and Banstead, Richmond, Runnymede, Shepperton, Shere, Smallfield, Spelthorne, Staines, Stoneleigh, Sunbury-on-Thames, Surbiton, Sutton, Tadworth, Teddington, Tandridge, Thames Ditton, Virginia Water, Wallington, Walton on Thames, Warlingham, Waverley, West Molesey, Westcott, Weybridge, Whyteleafe, Windlesham, Woking, Woldingham, Wonersh, Worcester Park, , West Midlands - Aldridge, Amblecote, Balsall Common, Berkswell, Birmingham, Blackheath, Bloxwich, Blythe Valley Park, Brierley Hill, Brownhills, Castle Bromwich, Catherine de Barnes, Cheswick Green, Coleshill, Coseley, Coventry, Cradley, Cradley Heath, Darlaston, Dorridge, Dudley, Earlswood, Edgbaston, Gornal, Great Barr, Halesowen, Hampton in Arden, Hockley Heath, Kings Norton, Kingswinford, Knowle, Lye, Meriden, Monkspath, Netherton, Oldbury, Olton, Pelsall, Perton, Quarry Bank, Rowley Regis, Rubery, Rushall, Sedgley, Shirley, Smethwick, Solihull, Stourbridge, Streetly, Sutton Coldfield, Tipton, Tividale, Walsall, Walsall Wood, Warley, Wednesbury, West Bromwich, Willenhall, Wolverhampton, Wordsley, , West Sussex - Amberley, Angmering, Arundel, Ashington, Barnham, Billingshurst, Bognor Regis, Bolney, Bosham, Bramber, Burgess Hill, Bury, Chichester, Climping, Copthorne, Cowfold, Crawley, Crawley Down, Cuckfield, East Grinstead, East Preston, Faygate, Ferring, Findon, Fittleworth, Fontwell, Gatwick, Handcross, Hassocks, Haywards Heath, Henfield, Horsham, Horsted Keynes, Hunston, Hurstpierpoint and Sayers Common, Kirdford, Lancing, Lavant, Lindfield, Littlehampton, Loxwood, Maplehurst, Midhurst, Newtimber, Partridge Green, Petworth, Pulborough, Rudgwick, Rustington, Selsey, Shoreham by Sea, Singleton, Slinfold, Small Dole, Sompting, Southwater, Steyning, Storrington, Turners Hill, Upper Beeding, Walberton, Washington, West Chiltington, West Grinstead, West Hoathly, West Wittering, Worthing, Yapton,